Our Dogs
Cheiron Ballotada (Artie)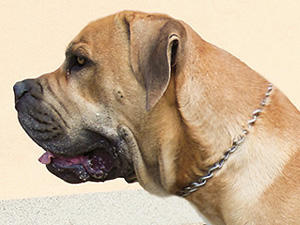 SABT 84,8                              BI TPI 92,50
Rosmalen (NL) 2014, 4th place     BI appraisal
Excellent, 2 CAC, BOB, BIG3, CHAMPION CZ
Profile
born: 22.1.2012
† 19.5.2016
66 cm, 61 kg
breeding male
Artie is an impressive dog, colour of gold, with significantly modeled head and the evil eye. He´s got strong, confident and harsh nature. His eyes are dark, ear well carried, muscular neck, widebroad cest, well shaped toptine. Excellent hindquarters.
Genetically very valuable dog. Artie´s father is beautiful and successful SPITSVUUR TULA I (import: Republic of South Africa). Spitsvuur Tula I is one of the few breeding dogs belonging to the excellent Kennel (of origine native country) in Europe. Artie´s mother is B MARION BALLOTADA, beautiful and successful bitch as well. She belongs to the Kennel of AVONTUUR that carries precious genes. Surely I do not have to remind one of the most successful male Boerboel AVONTUUR ANTON belonging to AVONTUUR.
PEDIGREE FCI       PEDIGREE SABT        STUD BOOK         BI PEDIGREE 
Rtg. DLK 0/0
Certificate of radiological elbow dysplasia examination                        Health certif.
DKK A/A
Certificate of radiological hip dysplasia examination
Photo gallery